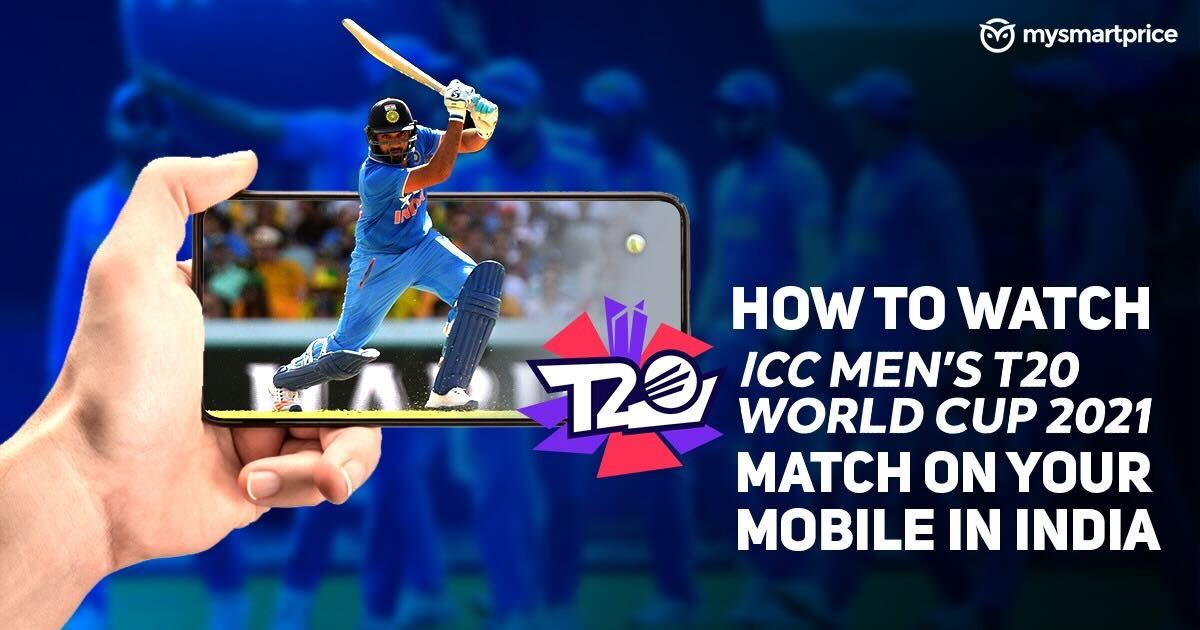 This year T20 World Cup 2021 will surely give you a nail-biting experience. And to top it up, what could be better than the India vs Pakistan match on October 24, which will be held on October 24th. That said, there are countries like Australia, New Zealand, England, South Africa, and more that will be going all out to win this year's trophy. More importantly, we will also see teams from countries like Oman and Papua New Guinea that will participate in this tournament. So, if you are still figuring it out how to watch all this action on your TV, mobile, laptop or any other device, then you have come to the right place. In this article, we will provide a detailed insight on how to watch all the T20 World Cup 2021 matches for free on your mobile, laptop or TV. So, without further ado, let's get started.
Where to Watch T20 World Cup 2021 Live Streaming Online on Mobile, Laptop and TV?
If you are planning to watch the T20 matches on your mobile device or on your laptop, Disney+ Hotstar is the right application for you. The platform will be streaming all the matches. But it is important to note that you need to buy a subscription to watch the cricket matches on the platform.
Disney+ Hotstar currently has three subscription plans. The entry-level plan is known as Disney+ Hotstar Mobile and it comes with a price tag of Rs 499 per year. The plan allows you to watch all the content on a mobile device.
The next plan on the list is the Disney+ Hostar Super plan. The pack comes with a price tag of Rs 899 and allows you to watch all the Disney and Hotstar content on two devices simultaneously. You can also watch the content on your Smart TV with this subscription.
Lastly, we have the Disney+ Hotstar Premium plan. The latest plan from the company allows you to watch content in up to 4K resolution. Furthermore, you can watch the content on four devices simultaneously.
Furthermore, one can also watch all the T20 World Cup 2021 action on Star Sports channels, if you have a DTH connection at your home. Interestingly, the broadcaster also brings you matches in regional languages like Hindi, Telugu, Tamil, and more. As per the information available, one can watch the T20 World Cup matches on the following channels:
Star Sports 1
Star Sports 2
Star Sports 1 Hindi
Star Sports 1 HD
Star Sports 2 HD
Star Sports 1 HD Hindi
Star Sports 1 Tamil
Star Sports 1 Telugu
Star Sports 1 Kannada
T20 World Cup 2021 Full Schedule with Date and Time (IST)
The ICC Men's T20 World Cup 2021 will be held in different stages. To start with, there will be Round 1, which is divided into two groups:
Group A: Sri Lanka, Ireland, the Netherlands and Namibia
Group B: Bangladesh, Scotland, Papua New Guinea and Oman
Then, we have Super 12s, which also has two groups. It is important to note that the winner and runner-up from the Round 1 qualifier will be present at this stage.
The ICC Men's T20 World Cup 2021 is about to begin and we couldn't hold our excitement. The biggest sporting event of 2021 is about to kickstart on October 17th and will end on November 14. This year T20 World Cup 2021 is happening right after the IPL 2021, which was held in UAE. Interestingly, the cricket tournament will be played in UAE this year.
Group 1: England, Australia, South Africa, West Indies, A1 and B2.
Group 2: India, Pakistan, New Zealand, Afghanistan, A2 and B1.
After the Super 12s, we will see the Knock-out stage that will start from November 10 and the finals will be held on November 15. That said, here is the full list of matches:
| | | | | | |
| --- | --- | --- | --- | --- | --- |
| Match No | Date | Stage | Match | Time | Place |
| 1 | 17-Oct-21 | Round 1 | Oman Vs Papua New Guinea | 2:00 PM | Muscat |
| 2 | 17-Oct-21 | Round 1 | Bangladesh Vs Scotland | 6:00 PM | Muscat |
| 3 | 18-Oct-21 | Round 1 | Ireland Vs Netherlands | 2:00 PM | Abu Dhabi |
| 4 | 18-Oct-21 | Round 1 | Sri Lanka Vs Namibia | 6:00 PM | Abu Dhabi |
| 5 | 19-Oct-21 | Round 1 | Scotland Vs Papua New Guinea | 2:00 PM | Muscat |
| 6 | 19-Oct-21 | Round 1 | Oman Vs Bangladesh | 6:00 PM | Muscat |
| 7 | 20-Oct-21 | Round 1 | Namibia Vs Netherlands | 2:00 PM | Abu Dhabi |
| 8 | 20-Oct-21 | Round 1 | Sri Lanka Vs Ireland | 6:00 PM | Abu Dhabi |
| 9 | 21-Oct-21 | Round 1 | Bangladesh Vs Papua New Guinea | 2:00 PM | Muscat |
| 10 | 21-Oct-21 | Round 1 | Oman Vs Scotland | 6:00 PM | Muscat |
| 11 | 22-Oct-21 | Round 1 | Namibia Vs Ireland | 2:00 PM | Sharjah |
| 12 | 22-Oct-21 | Round 1 | Sri Lanka Vs Netherlands | 6:00 PM | Sharjah |
| 13 | 23-Oct-21 | Super 12 | Australia vs South Africa | 2:00 PM | Abu Dhabi |
| 14 | 23-Oct-21 | Super 12 | England vs West Indies | 6:00 PM | Dubai |
| 15 | 24-Oct-21 | Super 12 | A1 vs B2 | 2:00 PM | Sharjah |
| 16 | 24-Oct-21 | Super 12 | India vs Pakistan | 6:00 PM | Dubai |
| 17 | 26-Oct-21 | Super 12 | South Africa Vs West Indies | 2:00 PM | Dubai |
| 18 | 26-Oct-21 | Super 12 | Pakistan Vs New Zealand | 6:00 PM | Sharjah |
| 19 | 27-Oct-21 | Super 12 | England Vs B2 | 2:00 PM | Abu Dhabi |
| 20 | 27-Oct-21 | Super 12 | B1 Vs A2 | 6:00 PM | Abu Dhabi |
| 21 | 28-Oct-21 | Super 12 | Australia Vs A1 | 6:00 PM | Dubai |
| 22 | 29-Oct-21 | Super 12 | West Indies Vs B2 | 2:00 PM | Sharjah |
| 23 | 29-Oct-21 | Super 12 | Pakistan vs Afghanistan | 6:00 PM | Dubai |
| 24 | 30-Oct-21 | Super 12 | South Africa Vs A1 | 2:00 PM | Sharjah |
| 25 | 30-Oct-21 | Super 12 | England Vs Australia | 6:00 PM | Dubai |
| 26 | 31-Oct-21 | Super 12 | Afghanistan vs A2 | 2:00 PM | Abu Dhabi |
| 27 | 31-Oct-21 | Super 12 | India vs New Zealand | 6:00 PM | Dubai |
| 28 | 01-Nov-21 | Super 12 | England Vs A1 | 6:00 PM | Sharjah |
| 29 | 02-Nov-21 | Super 12 | South Africa vs B2 | 2:00 PM | Abu Dhabi |
| 30 | 02-Nov-21 | Super 12 | Pakistan Vs B2 | 6:00 PM | Dubai |
| 31 | 03-Nov-21 | Super 12 | New Zealand vs B1 | 2:00 PM | Dubai |
| 32 | 03-Nov-21 | Super 12 | India vs Afghanistan | 6:00 PM | Abu Dhabi |
| 33 | 04-Nov-21 | Super 12 | Australia Vs B2 | 2:00 PM | Dubai |
| 34 | 04-Nov-21 | Super 12 | West Indies Vs A1 | 6:00 PM | Abu Dhabi |
| 35 | 05-Nov-21 | Super 12 | New Zealand vs A2 | 2:00 PM | Sharjah |
| 36 | 05-Nov-21 | Super 12 | India vs B1 | 6:00 PM | Dubai |
| 37 | 06-Nov-21 | Super 12 | Australia Vs West Indies | 2:00 PM | Abu Dhabi |
| 38 | 06-Nov-21 | Super 12 | England Vs South Africa | 6:00 PM | Sharjah |
| 39 | 07-Nov-21 | Super 12 | New Zealand vs Afghanistan | 2:00 PM | Abu Dhabi |
| 40 | 07-Nov-21 | Super 12 | Pakistan vs B1 | 6:00 PM | Sharjah |
| 41 | 08-Nov-21 | Super 12 | India vs A2 | 6:00 PM | Dubai |
| 42 | 10-Nov-21 | Semi-Final | TBC vs TBC | 6:00 PM | Abu Dhabi |
| 43 | 11-Nov-21 | Semi-Final | TBC vs TBC | 6:00 PM | Dubai |
| 44 | 14-Nov-21 | Final | TBC vs TBC | 6:00 PM | Dubai |
Thanks for reading till the end of this article. For more such informative and exclusive tech content,